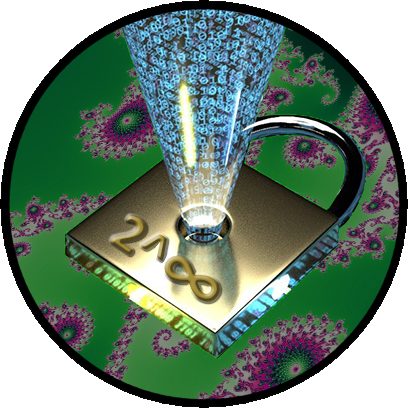 Military Bunker
Quantum Bunker™
Quantum Bunker guarantees data security for your logins, keys and personal information in the post-quantum age.
Common encryption is penetrable and insecure in the quantum computer age. All existing password managers and key store methods use common encryption.
Instead of common encryption, Quantum Bunker uses revolutionary Impenetrable Fractal Transformation to secure your vault.
Custom Military Mapping
Each Military vault is custom compiled and assembled with a unique fractal mapping for the corps, unit, force etc.
You receive a unique Quantum Bunker vault application that ensures only your military can open your vault files. Other military will also have unique fractal mappings, so no-one else can open your vaults even if they discover your password.
Military mappings do not overlap with personal or corporate mappings, include additional features and apply more passes (default 6 passes).
Quantum Bunker Screen-shots
Once you open your vault you can manage all your secure logins and personal information: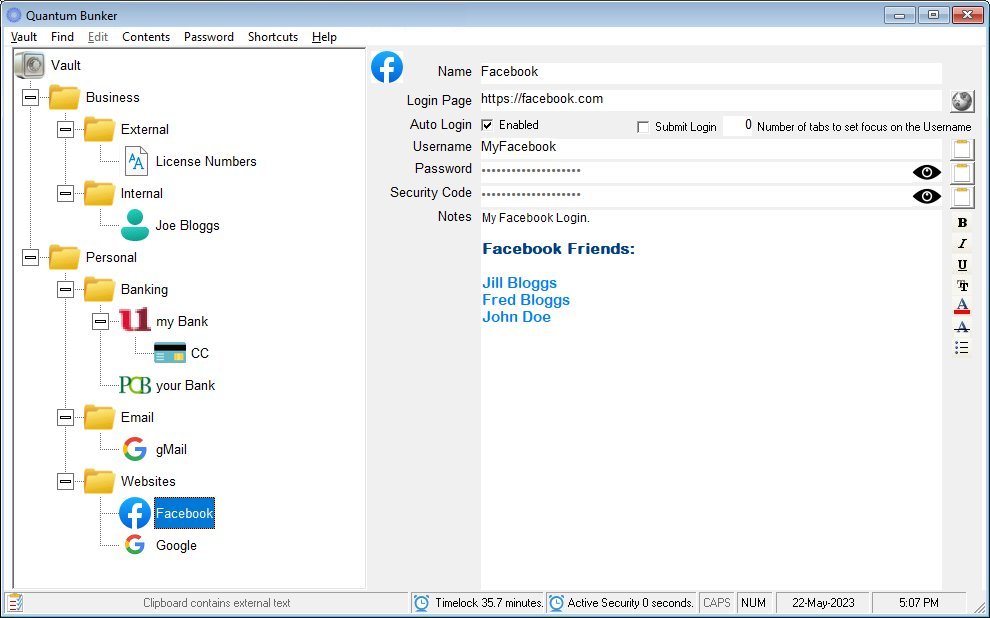 Security timers clean the clipboard after you have used it to log in, and lock the vault if it is not used: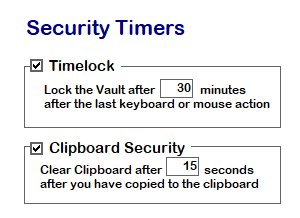 Quantum Bunker Features
Quantum Bunker is the result of five years of R&D in fractal security by a team with 30 years of professional systems analyst and software development experience.
We are proud to deliver a seamless user experience, including the following features:
Impenetrable - revolutionary quantum proof fractal data transformation
Unique per-client - every owner receives unique secured product
Manage multiple vaults - save different vault files for different family members
Folder management - organise your vault with folders like windows explorer
Navigate to Logins - one click navigation to logins with username and password
Clipboard copy - one click to copy username or password
Clipboard Management - clipboard cleared automatically
Versatile Notes - format notes with bold, italics, underline, font size and color
Contacts - securely store contact details
Random passwords - generate secure random passwords
The military can operate their own secure cloud backup to synchronise devices.
Quantum Bunker Benefits
The Quantum Bunker mission is to put an end to the global explosion of cyber-attacks, hacker extortion, loss of privacy, identity, client data and money.
We know this is a big ask, but we are making a start at the top of the security pyramid - login, key and personal information storage.
Benefits include:
Peace of mind - your Military logins, keys and secrets are secure
Quantum security - you have secured logins and keys against quantum computer attacks
Immunity to hackers - your keys and logins are impenetrable and secure from hackers
Due diligence - you have met requirements for maximum login and key security
Quantum Bunker is the security hub for a range of products planned for future release.
Military Vault
This is the Military version of Quantum Bunker that can be installed on all of your companies devices as OS versions become available.
The OS release schedule is as follows:
Windows - February 2024
Android - June 2024
Apple Mac - November 2024
Apple IOS - December 2024